History
In the beginning...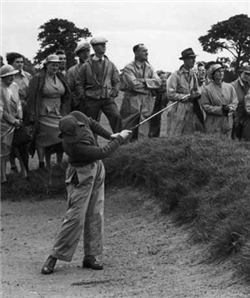 The earliest beginnings of golf in the Crewe area are shrouded in the mists of time. There is, for instance, some tantalising evidence of Golf being played at various sites in Crewe before 1893. Also, in the day books for 1911 - 1914, which survived the Club House fire of 1969, visitors were naming home clubs at Nantwich, Alvaston, Alsager, and Barthomley as well as such still-thriving clubs as Sandbach, Mossley and Wolstanton.

Of one thing, however, we can be certain, our present Club's origins can be traced back to November 1910 when a group of people, of whom Dr. E. C. Bailey was elected chairman, met at the Euston Coffee Tavern in Earle Street to discuss a proposition that a golf club should be formed. A Provisional Committee was set up to hunt around the vicinity for a suitable site.

By December 1910, Bailey and his committee had examined a number of possibilities, the most suitable being at Mr. Booth's Fields Farm, Haslington. The proposition was:

Rent - £4perannum
Fairways to be mown 60 yards wide beginning 100 yards from the tees
Greens to be made and fenced - not more than 25 sq. yards in area
Bunkers to be allowed provided they did not interfere with cattle grazing
A Club House and tool sheds to be allowed. Also grazing rights for one horse, but No dogs and no play on Sundays.

In January 1911, a General Meeting was called and the proposal was accepted on the basis of a 14 years lease. A Founder Committee with Mr. R. Baxter Booth as its Chairman was elected. This committee set to work to turn the outline proposition into a real golf course.

After a great deal of work and preparation, the formation of the new club was agreed and the first groundsman, Samuel Burgess, was appointed at a wage of £1 a week. Later, his son was employed at 5 shillings a week. By the 9th of May the Founder Committee had completed its work and once more a General Meeting was called at the Euston Coffee House at which the first officers of Crewe Golf Club were elected. They were:

President: W. W. Warneford
Captain: R. Baxter Booth
Treasurer: W. H. Hughes
Secretary: W. Boyle
At the same time, it was announced that the nine-hole course would be opened for play on Saturday, May 13th 1911.

The Plateau
Thus it was that on Saturday, May 13th, 1911, the first Captain drove the first official golf ball from the first tee down the first hole of Crewe Golf Club.